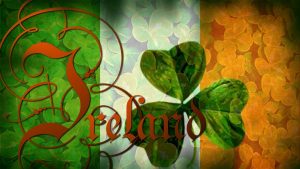 President John F. Kennedy's sister, Jean Kennedy Smith, United States Ambassador to Ireland, provided a pleasant foretaste of what lay ahead for  our Company's doing business in Ireland. We soon learned that the Emerald Isle was all business when it came to business.
I called the ambassador from the United States and explained that we were about to launch a software development and maintenance center in Limerick. Would she do us the honor of cutting a ceremonial ribbon and perhaps giving a talk at the opening?  "Of course, I will," was the ambassador's prompt reply. "I know how important a grand opening ceremony can be to a company and I know how important it will be to Ireland to host a new technology company. Let's schedule it." And, so it was that a visibly excited Ambassador Smith cut the ribbon and gave a rousing welcome speech before hundreds of employees, politicians, businessmen, and members of the national and international press.
At the reception following the opening ceremony the ambassador was gracious and engaging most especially of the young people she encountered. Jean Kennedy Smith was beloved in Ireland. Not only was she involved in a number of charities but she was instrumental in the Northern Ireland peace process for which she was conferred honorary Irish citizenship.
Sometime after our Company's ceremonial opening the ambassador invited our executive team to visit the embassy in Dublin where aides flourished a vast collection of Kennedy memorabilia and touching family photographs.
For a company starting a business, the World Bank's Ease of Doing Business Index ranks Ireland in the top ten. Ireland's corporate tax rate of 12.5% for trader income – that is, non-passive income – is among the lowest rates in the world and is a compelling reason which explains why so many U.S. multinationals have repaired to the island. Further sweetening the pot is Ireland's generous Research and Development tax credit of 25% available to companies that participate in activities that advance a field of science or technology.
The rest of the country's tax regime, however, is not as friendly. Ireland's personal income tax is progressive and starts at about 20% at the lower levels of income with higher levels of income taxed at 40%. The capital gains tax rate is a decidedly unfriendly 33% and among the world's highest. The Value Added Tax (VAT) stands at 23% and is par for the course across the world with the exception of the United States which imposes no VAT.
Ireland's GDP is roughly $300 billion – split almost equally between industry and services – making it a comparatively small economy on the world stage. More importantly, however, Ireland's GDP per capita is in excess of $60,000 ranking it among the top five of countries globally. With the United Kingdom's exit from the European Union, Ireland becomes the only English-speaking nation in the twenty-seven country union.
THERE IS MORE TO LIMERICK THAN ANGELA'S ASHES
Limerick is the sad and moving setting for Frank McCourt's Angela's Ashes. McCourt's Pulitzer Prize-winning account of a dissolute and drunken father who left his family at starvation levels harkens to a time long ago past in Limerick. The Frank McCourt museum, a testament to the author's legacy, is now located at Leamy House, McCourt's former school, in the center of Limerick City.
Today, Limerick is at the heart of a dynamic, international, and technological Mid-West Ireland with an extensive assortment of multinationals engaged in information technology, engineering, and the life sciences.
Ireland's Industrial Development Authority (IDA) was instrumental in our decision to locate in Limerick a pastoral city lying along the river Shannon and about a three hour's fast drive southwest of Dublin. The metropolitan area of Limerick numbers about 200,000 population making it the third most populous area in a country of just under 5 million people.
The IDA's main task is to attract foreign direct investment into the country by leveraging its extensive network of resources to ease a company's move and transition to Ireland. In this regard, the IDA has been supremely successful as Ireland ranks in the top ten in the world in attracting foreign capital. Where appropriate, the IDA will offer a company financial incentives to hire in-country workers. In our Company's case, we were incented to locate our business in Limerick which, at the time, was suffering grievous unemployment. The IDA was also instrumental in helping us establish relationships in banking and finance. In retrospect, locating the software development center in Limerick was one of the smartest decisions we ever made. Adding to our good fortune was our being able to hire a superior general manager versed in systems and finance, and who was comfortable overseeing our operations both in Dublin as well mas Limerick.
Our center was located across the green at the University of Limerick, a terrific school with both graduate and undergraduate programs in the Arts and Humanities, Social Sciences, Education, Business, Health Services,  and most importantly for our business, Science and Engineering. In computer science and information systems the school threw off the kinds of graduates our startup company desperately needed. The University of Limerick was the first university founded since Ireland became a republic in 1922 and in that time it has become a top ranked institution in the country.
Further adding to the allure of working with the University of Limerick was the service attitude of the school's administration. We found it refreshing, if not unprecedented, that the school's dean would ask us to identify the kinds of subjects they should be teaching in order to make their graduates more relevant to employers and therefore more employable. This was in stark contrast to our experience in the United States where on at least one occasion I was informed by a college president that curriculum subjects could not be changed because professors liked to "teach to their strengths." In the vernacular, that is to say: "customers be damned." We followed up the launch of our center in Limerick shortly thereafter by acquiring a small but very innovative banking software company in Dublin. Again, our confidence in Ireland was rewarded as the company's products were well received.
WHAT IS THE TRUE IRISH SPIRIT?
Despite the dramatic transformation Ireland's economy has witnessed, the nation's unemployment remains unacceptably high. The national unemployment rate is in excess of 6% with many pockets – blackspots as they are called – especially in Limerick City in excess of 30%. Also, among the Organization of Economic Cooperation and Development (OECD) countries Ireland's distribution of income, after accounting for taxes and public benefits, is about average.
The Irish diaspora is huge with many millions of people of Irish ancestry living abroad. Although the actual number is hard to calculate it is clear that there are many more Irish living abroad, in places like the United Kingdom, the United States and Australia, than living In Ireland. Historically, the Irish left their homeland by the untold millions as they suffered extensive crop failures as well as oppressive religious, social, and economic persecution. To be sure, emigration has dramatically diminished but it still persists on the part of those seeking improved jobs and opportunities.
Ireland remains a nation of stark contradictions. The public face of Ireland is vibrant, urban, and high-tech. Ireland's countryside, however, reveals a different face. The hinterlands are mostly desolate, deforested, and sad; almost sorrowful. There is a palpable lethargy that is only punctuated by magnificent peat bogs, quiet rivers, and silky lakes. The kaleidoscopic beauty of seaside towns, especially in the west, is dotted by countless friendly,  hospitable, and cozy pubs: its regulars, craggy faced, barely able to disguise their melancholy with music, poetry, and drink. This face, in the end, might be more reflective of the indomitable Irish Spirit.
Google+