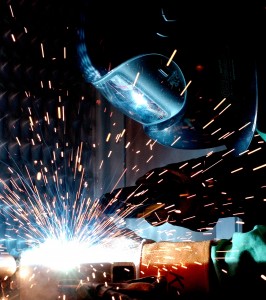 THE SUN WILL NEVER SET ON THE BRITISH EMPIRE
The former world economic power, the United Kingdom, lost its supremacy because it failed to adapt. Britain's decline is explained by a long adherence to a variety of rigid policies and practices that kept it from adapting to new world realities – few of them having to do with the nation's industrial or manufacturing prowess per se. Yes, Britain's labor unions had a big hand in the demise of the country's supremacy by stiff-arming productivity improvements on the factory floor but other factors did as well. In a nutshell, these factors had to do with a stubborn unwillingness on the part of British suppliers to get sufficiently close to the customer on the continent of Europe and elsewhere so as to better understand their requirements. Finally, British industrialists were late to recognize that the discipline of engineering – the social media phenomenon of the day – was anything more than a trade.
Understanding these historical precedents is instructive because I'm afraid that we are witnessing our own rigidities. And, if we fail to respond forcefully, urgently, and with fresh approaches we will be the ones booted off center stage. Unfortunately, China and other emerging economies, especially, are already showing us the door.
HOW SHOULD U.S. MANUFACTURERS COMPETE?
Manufacturing executives in the United States should simply get over price and product features being sustainable competitive advantages unless one of two things is true: 1) their product is the unquestioned cost leader in an industry sector or 2) their products own an unassailable market niche; that is, the product is so unique that the supplier can pretty much have his say in that niche. Otherwise, service becomes the great lever but it must be baked into everything the organization does in order that it become an effective tool of strategy. Now, the organization seeking to wrap service around its product lineup must do so wisely – there are some important do's and don'ts – but I believe it must be done because in the current competitive climate it can be a game changer.
A focus on service is a focus on the customer plain and simple. The organization that fails to focus on the customer, on the other hand, yields to an industrial-age paradigm where efficiency not effectiveness, internal processes not outward – that is, customer –processes, and short term gains not long term performance are king. Manufacturers have a great deal of inertia to overcome to supplant this industrial-age mind-set which continues to be characterized by the employment of regimented labor ["do as I say," "follow the script," etc.]; an emphasis on hard assets [property, plant, and equipment]; a focus on efficient processes where production is the end game; short term financial objectives, and supplier driven production goals.
We are now living in an age where the manufacturer can gain far more leverage from intangible assets [people, processes, alliances, systems, brands, etc.]; an organizational focus pointed outward toward the customer; process effectiveness where production is a means to an end; customer relationships; service and information content integrated into the product; and custom differentiated solutions.
The manufacturer who leverages service with these ideas in mind has a far better chance of offering solutions to the marketplace that are less likely to succumb to competitive assaults especially those coming from Far East manufacturers who profit by flattening economies of scale. The manufacturer who leverages service confounds that formula by introducing economies of scope which are far less likely to be easily flattened by competitors.
THE CALL TO ACTION IS NOW
We are no longer playing a domestic zero-sum game. The threat now is that if we lose to an off-shore location we stand little chance of recovering that lost business. The Federal Reserve recently reported that we have nearly $1 Trillion of unused plant capacity in the country. My home state of Florida, as a notable example, has lost 115,000 manufacturing jobs to China alone in the last decade. An astounding job loss by a state whose manufacturing share of state GDP is a mere 5%.
With few exceptions manufacturers have been slow to embrace service as a tool of strategy. Yet, I believe that a continuing adherence to approaches of the past focused largely on efficiencies, regardless how successful they might have been, will end badly for America's businesses if not the nation at large.  Now comes news that Carrier, the heating and air conditioning company, will relocate its Indianapolis, Indiana plant to Monterrey, Mexico. The reason? Company president Chris Nelson announced that 1,400 employees would lose their jobs in order for the company to "stay competitive."
We simply do not have the apparatus to match off-shore locations on measures of efficiency alone. We can, however, best them by innovative uses of service and information.
Business leaders who are paralyzed in the face of the nation's economic stagnation or those expecting a return to strong growth should realize that significant opportunities avail in adversity. We are now living in an age of downwardly revised growth forecasts. If the economy grows at 1% we should count our lucky stars. In the face of this meltdown, terrific opportunities lie ahead for the bold to steam ahead.
Service as the great lever is more than just a metaphor: it is a call to action. A manufacturer, any manufacturer, can weaponize a given product lineup with service and make life a nightmare for a competitor especially an off-shore outsourcer. We know what has to be done. We just need to muster the will to do it.
Google+