The Five Stage Model of Service Excellence was developed by our team of experts in service to benchmark the evolution of customer service as an ouput measure in organizations. The curve, which describes the evolution of an organization's ability to deliver excellence in service, remains flat through its early stages until most of  the building blocks come together.
The inflection point of the curve occurs in Stage 3, the Development Stage, signifying that the organization has begun the systematic implementation of Service Management principles and practices. In Stage 4, the customer is clearly at the center of the business planning process and service improvement initiatives are justified on measures beyond immediate ROI yardsticks.
Finally, in Stage 5, the dedication to continuous service improvement becomes embedded in the organization's culture.
The Five Stage Model of Service Excellence helps organizations identify where they are and where they want to be on the continuum of Service Management Excellence. A number of diagnostic indicators help suggest where an organization might find itself along the curve of service excellence at any one point in time. A careful study and evaluation of service metrics, however, is needed to place the organization along the curve with certainty.
The model is not foolproof and does not answer all questions about an organization's level of Service Management achievement but it does help to provoke additional questions for further diagnostic analysis and follow-up.
The model is inferential in suggesting that the organization can not climb the curve of service excellence without commensurate investments in service improvement iniatives.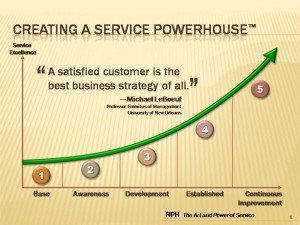 Google+