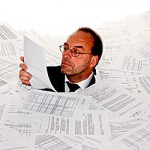 Personalized customer service has been made impotent by an inexhaustible supply of inane corporate policies designed to control the behaviors of front-line workers. Incredibly, these are the same workers most entrusted to interact with those who spend their hard-earned cash to buy our products. As a result, the average service worker has become an automaton: inflexible, devoid of resourcefulness, helpless, and obligated to follow stultifying scripts. It is no wonder that businesses are experiencing alarming rates of customer churn due to no other reason than to poor service. One of the largest Internet service providers in the nation requires its call-center personnel to meet a quota of numbers of customers served each hour or risk losing their incentive bonus. Not only does this approach fly in the face of the need to devolve power to the front line for effective customer service but it also fails to recognize that production-based incentives and quotas – in lieu of a practice that ensures that customers have all of their questions answered without a perfunctory brush-off – are vestiges of a time long past.
The great German sociologist Max Weber referred to an "iron cage" to describe the condition in which workers were hemmed in by the bureaucracy with no freedom of motion but to follow rigid standards of efficiency and control. I believe that with rare exceptions service workers have been relegated to their iron cages. And, unless and until front-line workers break free from their cages, their skills, expertise and sensibilities will not be brought to bear in the customer's behalf and by extension for the benefit of the enterprise.
Front-line workers serving the consuming public are witnessing an eroding functional and institutional autonomy. And, with that loss of autonomy comes a  diminished ability to do what is right – that is, to do what is right by the customer. So, it is no wonder that tales such as that of the technical support worker at Hewlett Packard who refused to help an American soldier slogging through the desert in Iraq repair his downed printer – until the company got paid first – have become commonplace. There is no telling but that a heroic action by this technician to ignore company policy and help the GI in distress might have earned him a reprimand if not a termination. Had he stepped up, however, a courageous leadership might have celebrated his action and then moved to correct the offending policy.
DEVOLVING POWER TO THE FRONT-LINE
The bedrock for sustained creative contributions by employees requires that leaders act on a deep-down belief in the potential of every person to contribute to the good of the organization by serving the needs of the customer. This means giving people the power to act, and the chance to experiment and of necessity to fail. The freedom to make decisions must be pushed down to the point where the customer most often interacts with the organization. To empower the workforce, leaders have to redefine their own risk-taking behavior. Errors of empowered employees have to be identified, not for punitive actions, but for the opportunity to learn to do better in the future. Given the variety and situational considerations of service encounters, it is impossible to anticipate each encounter and prescribe proper behavior. In fact, the greater the uncertainty of the task at hand, the more freedom the front line should be given to act.
According to Jan Carlzon, who as president of Scandinavian Airlines did so much to bring the company back from the brink, people far out on the line, where the action is, must be given the authority to act. Carlzon asked his front line to think of every interaction with a customer as a "moment of truth." Rapid-fire customer interactions simply do not allow time for consulting a manual or for checking in with headquarters. What can we learn from Jan Carlzon? It's not that hard to figure out. Simply stated: the front line must be given the clout to in effect be customer driven not rules driven.
TECHNOLOGY AS A PROXY FOR SERVICE?
The logical progression in the bureaucratization of service is the substitution of technology for the human element. Self-checkout supermarket registers, hotel check-in kiosks, self-check-in airline ticket kiosks, hospital admission check-in kiosks, ATM's, IVR's all are meant to disintermediate the service or salesperson. Many merchants are thankful that technology has finally caught up with the surly, unhelpful salesclerk who drives customers away instead of enticing them to spend more of their money. Customers, too, are relieved that they do not have to interact with a salesperson who appears to be having a bad day. What does not bode well, however, is that the motivation behind these efforts to displace the front-line worker is not so much to improve service but to reduce cost, and to enhance operating efficiency. In fact, in light of these technological initiatives, the result might be less service, not more. If service implies flexibility, understanding, responsiveness and an ability to communicate, then I know for sure that this self-service world of man-machine interactions has set us back immeasurably.
FREEDOM OF ACTION: GOOD FOR BUSINESS, GOOD FOR THE SOUL
Bureaucratization was spawned by the industrial age: an age with very different fundamentals from those of the service and information age in which we live. The industrial age emphasized regimented labor, hard assets, and efficiency as the primary factors of performance. Industrial age models of economic behavior focus on short term thinking, production efficiencies and uniform behavior. Conversely, human potential, creativity, communication,  information, and other intangibles are the primary resource strengths of the service and information age enterprise.
These two views offer a graphic contrast of the deep business philosophical and cultural divide that has been with us far too long and which will take courageous leadership to eventually bridge. To paraphrase Nobel Prize winning economist Milton Friedman, morality and responsibility are characteristics of people – not of systems. Reliability, responsiveness, service and integrity, the stuff of the customer-focused enterprise are values that customers, as consumers, as humans, seek to find in their supplier partners. Likewise, customer-focused enterprise strategies help build morale and create an environment in which workers are reassured and supported in doing the right thing.
The customer-focused supplier manages to set itself free from the tyranny of industrial-age biases by balancing a higher moral and aesthetic purpose with the need to remain financially viable. In sum, suppliers must de-bureaucratize the service function and harmonize these admittedly competing dimensions. Those who do will have a decided edge in the 21st century marketplace
Google+