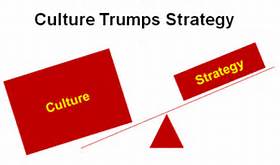 THE MORE THINGS CHANGE THE MORE THEY STAY THE SAME
Service leadership, or customer-focused leadership, is my characterization of a leadership style that gives life, through its actions, to an organization's customer focus. A customer focus demands of the organization that it biases all of its actions on behalf of the customer. This is not just a call to action for the front line worker where a bias on behalf of the customer is expected – and where it is most likely to be found – but throughout the organization; front to back.
Successful service leadership cannot be produced by the blind mirroring of the norms commonplace in the industrial age. The obsession with short-term financial results and operating efficiencies simply will not do in the service and information age. I believe most executives today understand that these new market forces – centered around the customer – have changed the economic landscape in dramatic ways. I also believe, however, that few executives grasp the consequent impact of these economic changes on their own leadership actions and by extension on their organizations' service behavior.
This disconnect, in my view, has rendered many companies institutionally incapable— incapable organizationally, behaviorally, culturally—of delivering excellence in service to the customer as leadership models of old remain entrenched. These companies have made a habit of rendering mediocre service. As with most habits, this pattern of behavior will be hard to break.
The most difficult leadership challenge in business is to transform an organization's culture. That's because the makeup of an organization's culture – its processes, values, beliefs, and practices – inevitably become ossified over time. These components are locked together so tightly as to straightjacket any attempt to change a company's culture. That's why cultural change advances glacially, if at all. Even in cases where the leadership team has made a determined effort to effect change, once the team's attention is diverted elsewhere, cultural inertia takes over and the organization snaps back to its old ways.
CAN WE BREAK THE MOLD?
In the light of the headwinds that prevail in most organizations to stifle cultural change how does a leadership team catalyze the changes needed to focus the organization on the customer? The most fruitful success strategy, I know, is based on the following framework:
Embrace a customer-focused mission. Articulating a mission is a most important first step in focusing the organization's principles and priorities. It is a validation of an organization's commitment to a customer focus that there be widespread agreement and support for a core belief such as "Customers are first." Differences of opinion, disagreements, and alternate views can be debated, but at the end of the day, everyone must close ranks on the agreed-upon set of values.
Reinforce the mission operationally. Service-leadership responsibilities must be consistent with the mission while being grounded at the operating level. By way of examples, the leadership must follow through on the following: 1) hire service-smart workers, 2) empower workers to act in the customer's behalf, 3) provide workers with a program of continuing education geared to new product and service offerings, 4) support workers with information systems geared to interact with customers effectively and efficiently, 5) incent service workers with the appropriate tangible and intangible rewards, 6) ensure public and private messaging does not subvert the mission, and 7) take remedial action with intransigent workers.
Abide the Golden Rule of Service: A worker's correct ethical choices should be grounded on the following two propositions, neither of which can be implied to bring harm to others: 1) "Do what you say you are going to do", and 2) "Don't do what you say you are not going to do". A simple adherence to these propositions – admittedly, more easily said than done – speaks tomes to the character of the individual and his organization. A failure to abide by these propositions while making excuses or lying about a stated promise wasn't kept gradually erodes the goodwill that has been built with the customer or keeps customer goodwill from being established in the first place.
It is clear that in the service and information age in which we find ourselves that price and product features are no longer sustainable competitive advantages. Brand distinctions simply blur in the face of meaningless service differences. Products devoid of service degrade into commodity status. What we are left with is service and it has indeed become a potent weapon for leadership teams unafraid to embrace it. Service has become the great lever for companies in the twenty-first century and it has given new meaning to the aphorism that "we cannot fight new wars with old weapons."
Related articles
Google+