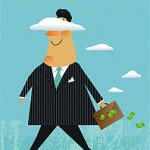 Strategic planning has evolved and matured over the last 50 years to the point that nearly every organization, large or small, can claim to follow a formal planning process to a greater or lesser extent. Some companies—especially large companies operating in mature industries—have planning processes that are highly elaborate and complex. Small companies and others operating in turbulent industries might combine process rigor with a dose of intuition. No two companies approach strategic planning in exactly the same way—one size does not fit all—but most companies work within the same general framework. Yet it has never been clear that strategy can emanate from a strategic-planning process. F. A. Hayek, Nobel laureate in economics, said that knowledge of economic circumstances—Hayek was speaking of economic circumstances at a societal level, but the point is relevant nonetheless—never exists in concentrated form. The great economist went on to say that the knowledge necessary for planning is never given to the planner but to somebody else. The point Hayek is making is that planners have to elicit the necessary knowledge from those who possess it. Professor Henry Mintzberg, who has written on management and business strategy for more than 40 years, has labeled the term strategic planning an oxymoron. That being the case, how do we (1) formulate strategy and (2) formulate strategy around a customer's needs and requirements?
THE CUSTOMER AS THE CENTERPIECE OF STRATEGY
The character of the strategic-planning process as we know it—its linearity, its formalism, its regularity—makes hope the plan: a hope that the world with all its chaos, discontinuities, and instabilities can somehow be freeze-dried while the planners do their thing. The reality of strategy making is far messier that the mandarins in the planning department would have us believe. The sheer incrementalism of the strategic-planning process in place today ensures that new strategic initiatives are not breakthrough initiatives but incremental tweaks to existing strategy. Strategy formation, as Professor Mintzberg refers to it – to emphasize the spontaneity of the process – is not a consequence of strategic planning but of strategic visioning—visioning that springs from listening and learning. The organization's leadership must therefore create an environment—a culture—by which it enables listening and learning, not as part of an annual planning exercise but spontaneously and at all times.
A customer-centric, strategy-making process is dynamic, complex, and filled with ambiguity. It thus starts with the premise that all that is knowable about the customer at a particular point in time cannot be known with much exactitude. (This has to do as much with the difficulty of the process as with the fact that we as humans cannot always put into words what we know. As scientist and philosopher Michael Polanyi reminds us, the nature of knowledge is such that "we know more than we can tell.") This premise is an important foundational element—albeit rarely recognized in business today—to the strategy-making process because it implies that there is no beginning or end. In other words, the process is circular. And, no degree of strategy-making success—a breakthrough, perhaps brought about by capturing some important insight—in our circular peregrinations should call for its finality. In the service and information age, strategies will have to evolve at blinding speed. No single strategic success, therefore, should be allowed to reintroduce organizational inertia. A strategic success, if anything, should be used as a launching pad for continued customer probing, which, in turn, might lead to new strategic thrusts.
TAPPING THE CUSTOMER'S VOICE
How then do we go about finding the customer's voice? Where can we find such a voice that it can be factored into a strategy making process? The how is not as important as the where.  The former speaks to the mechanics of the process, which might be suitable for one organization, given its structure and resources, but not for another. In its most rigid incarnation, however, it might be as orderly, organized, and rigorous as the prevailing process is in many businesses today. The point of departure with our recommended approach is that customer needs and requirements should catalyze a process that is continuous and not subservient to the calendar. The answer to the second question is that the customer's voice, surprisingly, can be found in many places. The strategic-planning process simply needs to be adjusted so that it knows where to look. Here are some of the more likely places to find the customer's voice:
Visionary leaders within the organization. Steven Jobs of Apple Computer is the quintessential visionary in the computing industry – "We do no market research," says Mr. Jobs – and thus has an instinctive sense of how his products can serve the needs of the customer. Visionary leaders, like Mr. Jobs, are a statistical oddity. If a company has one, he should be given wide berth.
Executives and frontline members of the organization. For companies staffed with mere mortals, the challenge is to tap the potentially creative ideas that might be harbored in the most unlikely of places in the organization. Frontline workers, and sales executives, especially, interacting often as they do with customers, are a potential lodestone in identifying customer-focused initiatives and thus cannot remain passive participants in the strategy-formation process.
Current customers. The process of plumbing customers for feedback begins with an intelligent approach to the segmentation of the customer base. Marketing to defined customer segments allows for nuanced strategies and initiatives that are not evident when analyzing coarsely aggregated data. In other words, without segmenting the customer base, it is not possible to launch product or service design initiatives that are firmly rooted to the customer experience. This segmentation is also crucial as a way to allocate scarce resources and focus on customer segments that afford maximum or most immediate leverage and payback.
Past customers. Past customers hold the key to invaluable—potentially negative and thereby useful—information on the firm's track record in the marketplace. Why did the customer cancel his account? Was it the product, the price, the service, or other factors? What would it take to bring the customer back? Who handles the customer's business now? Why did the customer choose to do business with our competitor? Don't forget, most customers who are dissatisfied with our products or services never complain—giving us an opportunity to right a wrong—they just walk. Approaching lost customers might bring some of them back. And, even if they never return, the approach will be seen as a goodwill gesture.
Future customers. Prospects ordinarily approach a supplier—or in turn are approached by a supplier—with one product or service need that must be satisfied. It is a mistake often made, however, to fail to display the wider assortment of products and services offered by the firm: these additional service offerings might tip the balance and close the deal. Asking questions and listening intently are again at work: What are the customer's specific needs? How do our products and services match his needs? What about our other products and services? Who else is the customer considering for his business? What does it take to win the customer's business?
Transactional systems. Next on our list is access to customer data resident in enterprise sales or service computer system databases or data warehouses. The principal advantage to what in today's parlance is referred to as data mining is that it has the potential to unleash large amounts of customer data for analysis that might reveal important patterns of consumer behavior and do so relatively cost effectively. On the other hand, warehoused data reflects past patterns of consumer behavior and thus may offer few clues to current or prospective buyer behavior. Also, whether the sampled data can be used to predict the behavior of an entire population is a matter for the professional statistician or business intelligence practitioner. In any event, suspected patterns of behavior must be confirmed through other research methods such as customer surveys.
Social media systems. Social media is no longer a teen hobby or experiment. It is a serious channel that must be exploited for its ability to reach deep into the customer's voice. Social media, properly administered, allows the enterprise to gain insights critical to product or service design. But social media is hardly a panacea regardless the fact that approximately 66% of consumers are connected to one platform or another: consumers get no more than 5% of their information about a product from social media channels.
THE CUSTOMER AS AN AGENT OF CHANGE
The contemporary planning process by virtue of its formal, analytical, and control orientation almost guarantees that disruptive change is nullified. In other words, the planning process preserves the existing order at the expense of creative strategy formation. It needs to be stressed, that strategy formation is an art; it takes intuition, creativity, and imaginative thinking; it takes knowing what questions to ask, and then to listen. The point is that strategy is not likely to be a product of the planning process per se. The only product of the strategic planning process is a plan. Professor Mintzberg suggests that this is the result of a logical contradiction inherent in the planning process: strategic planning is essentially an analytical process. Strategy formation is all about synthesis. A plan, therefore, is orderly, mathematical, and rational; a strategy is visionary and intuitive. In the service and information age strategy formation must be centered on the customer. With price and feature commoditized, and easily mimicked by the competition the lever of service becomes a potent weapon when made an integral component of a company's strategic direction.
IGNORING THE CUSTOMER IS FRAUGHT WITH PERIL
The development of the Chevy Volt by General Motors  stands as an exception to the rule that standard planning regimens preserve the existing order of things. Clearly, General Motors meant to develop the Volt as a "game changer" vehicle for the company – while also playing catch-up against Japanese companies which had a considerable lead with hybrid vehicles.
The development of the Volt, it can be said, came about in spite of the standard vehicle development process. In 2006, CEO Rick Wagoner made the audacious  – and on the surface wise – decision  to proceed from concept to production engineering two months before the Detroit Auto Show. Mr. Wagoner's decision to break the yoke of the planning process to do what he thought was right for his company is commendable as far as that goes. But, for one hugely critical misstep: General Motors went into production without first gauging the customer's response to the product.
Is it any wonder that important benchmarks of the car's success run to the following:
An unattractive consumer price [$40,000]
Unsustainable manufacturing costs [$40,000]
Unattractive product features [40 miles/overnight charge and the occasional battery-pack fire]
Huge public subsidies [$7,500 individual tax credits and billions of government dollars to retool plants both domestically and abroad]
The result of Mr. Wagoner's bold move is that General Motors is now stuck with a car which commands a puny  market share, in a small market segment, yielding net losses. And, it isn't clear that the company will ever make money on the car. Already, executives at the company suggest that it might take the next generation of hybrid vehicles to turn a profit!
Related articles across the web
Google+