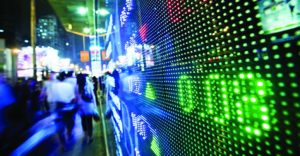 Stock buybacks of S&P companies totaled $536 billion during 2016, down somewhat from 2015's total of $572 billion. To grasp the significance of those numbers consider that S&P companies spent 58% of their corporate earnings in 2016 to effect their stock buybacks. For the year 2015 the comparable ratio was 65%.
It is obvious that S&P companies with sizeable cash hoards have decided that it is preferable to juice earnings per share (EPS) and return on asset (ROA) ratios – the consequential effect of buying a company's own stock – than to invest in their core businesses. A collateral benefit of the share buyback, of course, is that share prices normally climb in the face of improved EPS and ROA. It also goes without saying that equity-based executive incentive plans benefit greatly from stock repurchases.
An intelligent investor who at first blush might welcome the improved earnings per share resulting from a share buyback might pause and consider that this action is nothing but a short term palliative. Companies have long been infatuated with short termism in response to misguided compensation programs which reward executives for financial results in the short term. A stock buyback is simply an earnings management tool which disguises flat earnings growth. Moreover, stock buybacks divert precious capital from being invested in customer service initiatives, innovation, and research and development. A stock buyback might pose as clever financial engineering but it runs the risk of mortgaging a company's future.
A look at some of these companies helps to make the point:
Comcast Corporation. The company is on a buyback tear having recently announced a $12 billion stock repurchase authorization. Yet, this is a company which historically clings to the bottom of customer satisfaction ratings.
Hewlett-Packard. Beginning in the year 1999 the company has spent $67 billion on stock buybacks. CEO Mark Hurd's tenure which marked a five year stint beginning in 2005 was notable for spending $43 billion of the above total on stock buybacks. This, while the company raked in only $36 billion in corporate earnings over the same period. Hewlett-Packard is a legacy company of mostly commoditized products which should by now have re-invented itself instead of eroding the company's long term potential with excessive stock buybacks. This company, for me, reached its nadir some years ago when a technical support worker refused to help an American GI who fighting in Iraq, repair his broken printer until the company got paid first! I said at the time that this one incident was emblematic of bad company management and I still stand by that assertion.
American Airlines. Ranked below average by D. Power, the company, is known for its poor scores on customer satisfaction, lost bags, and involuntary seat bumps. Nonetheless, the company has spent $10 billion for stock buybacks since 2014 all the while the balance sheet is saddled with over $22 billion in long term debt.
IBM Corporation. Another technology company in need of a serious makeover, IBM has spent $125 billion on stock buybacks since 2005. And, over the last ten years the company has spent twice as much money on share buybacks as on research and development.
WHERE DOES SERVICE FIT IN?
Service to the customer has long been a poor hand-maiden to growth and profit objectives in the corporate world. Consider that even during a company's salad days customer service initiatives sink to the bottom of the barrel of corporate priorities. And, during those periods when corporate performance lags, the rate of service erosion accelerates. Let's review a benchmark year to further make the point.
According to the American Customer Satisfaction Index (ACSI), 2015 was a year which saw the overall customer experience for goods produced and consumed in the United States worsen.  Further, the overall trend of deteriorating customer satisfaction embraced nearly every industry. If there was ever any doubt, the ACSI proved that when corporate earnings hit a wall service continues its role as sacrificial lamb.
To be fair, during 2015 the revenues and earnings of S&P companies were being hammered in a way that hadn't been seen since the financial meltdown. Factors that were usually cited to explain this state of affairs ranged from stifling government regulations, a dysfunctional tax code, low energy prices, cash hoards at record highs, and a strong dollar. This slate of scapegoats conveniently provided corporate managements the perfect foil to focus all the more on window dressing financial results for the benefit of shareholders and executive incentive plans.
REPATRIATED EARNINGS WILL HARDLY CHANGE CORPORATE PRIORITIES
In 2004, Congress approved a repatriation of earnings at a tax holiday rate of 5.25%. Approximately $312 billion was returned to the United States mostly by large multinationals under the holiday. Predictably, however, 91% of the repatriated cash was used to effect stock repurchases according to the Congressional Research Service. The same can be the expected result from President Trump's Tax Cuts and Jobs Act of 2017. This time around the cash parked overseas is close to $3 trillion and can be repatriated at the rate of 15.5%. And, even though the Act has resulted in employees receiving unprecedented bonuses and wage hikes, the ink was barely dry before a cavalcade of multinationals announced stock repurchases.
A stock repurchase is nothing but  a  quick fix and a poor substitute for redirecting capital for unleashing service initiatives – hiring crack service human resources, undertaking continuous improvement training, deploying customer satisfaction sentiment tracking systems, and so on – designed to enhance customer retention, boost sales, and increase profits. Service initiatives properly thought out and executed can have a long-lasting salutary effect on a company's financial performance that no stock buyback can ever compete with.
Google+