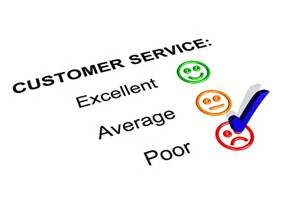 Service to the customer has long been a poor hand-maiden to growth and profit objectives in the corporate world. And, as corporate performance – especially public company performance – continues to wane we can expect the rate of service erosion to accelerate. According to the American Customer Satisfaction Index (ACSI), 2015 was a year which saw the overall customer experience for goods produced and consumed in the United States get worse.  Further, the overall trend of deteriorating customer satisfaction embraced nearly every industry. It's instructive to recall that even during a company's salad days customer service initiatives sink to the bottom of the barrel of corporate priorities. For that reason two out of three customers bolt from their suppliers for no other reason than for poor service. Now that corporate earnings have hit a wall with no foreseeable break in sight, service will continue its role as sacrificial lamb. Consider that during 2015 the revenues and earnings of S&P companies are being hammered in a way that hasn't been seen since the financial meltdown. Factors that are usually cited to explain this state of affairs range from stifling government regulations, a dysfunctional tax code, low energy prices, cash hoards at record highs, and a strong dollar. This slate of scapegoats conveniently provides corporate managements the perfect foil to focus all the more on window dressing financial results for the benefit of investors.
STOCK BUYBACKS WILL FIX EVERYTHING
The reflexive nostrum of public companies which fail to see the connection between excellence in service and financial betterment is the share buyback. Already, share buybacks by U.S. public companies are running at a rate that will exceed $600 billion for the year. Apple, IBM, Microsoft, Wells Fargo, Pfizer, Walmart, and other public stalwarts have decided that it is preferable to juice earnings per share – the consequential effect of buying a company's own stock – than to invest in their core businesses. A collateral benefit of the share buyback, of course, is that share prices normally climb in the face of improved earnings per share. This too is an apparent benefit of the quick fix that is a poor substitute for unleashing service initiatives – hiring crack service human resources, undertaking continuous improvement training, deploying customer satisfaction sentiment tracking systems, and so on – designed to boost sales and profits. The case of IBM is especially uninspiring: over the last ten years the company has spent twice as much money on share buybacks than on research and development. An intelligent investor who at first blush might welcome the improved earnings per share resulting from a share buyback might pause and consider that this action is nothing but a short term palliative. Companies have long been infatuated with short termism in response to misguided compensation programs which reward executives for quarterly financial results. A stock buyback is simply an earnings management tool which disguises flat earnings growth. Big Blue, for instance is on a year-long revenue slide with third quarter results off by 14%. Moreover, stock buybacks divert precious capital from being invested in customer service initiatives, innovation, and research and development. A stock buyback might pose as clever financial engineering but it runs the risk of mortgaging a company's future.
Google+