FROM RAGS TO RICHES
Dubai was little more than an impoverished and desert wasteland scarcely one hundred years ago. And, fewer than fifty years ago it was still under the heavy influence of the British as a protectorate of Her Majesty's Government. Against this backdrop it is all the more remarkable that Dubai has become almost a cliché of superlatives: the world's largest man-made port, the world's tallest building, the world's largest shopping mall, the world's busiest hub for international travel, the world's greatest concentration of five-star hotels, the world's largest water fountain, and so on.
The man largely behind the miracle that is Dubai was His Highness Sheik Rashid bin Saeed Al Maktoum. Sheik Rashid ruled Dubai for thirty-two years – before that he effectively ran the country as Prince Regent for twenty years – before his death in 1990. Sheik Rashid may be little known outside the Persian Gulf but he is nonetheless acknowledged as the Father of Dubai.
The Ruler governed his land with a firm but fair hand and while the emirate's wealth exploded he nontheless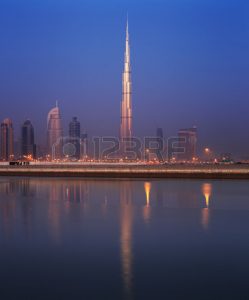 lived a modest life. Sheik Rashid's vision, his drive, and determination to better the lot of his people while remaining unobtrusive in the face of dazzling progress is an example for world leaders everywhere to follow. His ability to balance state planning with market economics proved a unique leadership trait.
The legacy Sheik Rashid left behind is of a city-state which uniquely combines energy with efficient serenity. Everything and everyone seems to move smartly but quietly – Sheik Rashid was reportedly annoyed at the street noise on his visit to New York City. The Burj Khalifa, rising to over 2,700 feet, is a monument to architectural modernity. Yet, Dubai's classical roots are evident with the magnificence of mosques at every turn – eye candy for art lovers regardless their religious affiliation. And perhaps most impressive of all, are the squeaky-clean looks – there is no graffiti to be seen anywhere – all the while there is a pell-mell rush to build more office space, more hotel rooms, and more motorways.
Dubai is undoubtedly a testament to what sensible government policies can achieve. But setting aside the ultra-modern and sleek skyline, I believe Dubai can do much more. After all, tall buildings are only so much steel and concrete.
WHERE DOES DUBAI GO FROM HERE?
I met with a European woman, a professor at a local university, who has spent many years in Dubai but who has apparently had enough and is preparing a career change outside the country. Her principal gripes were that women were far from being on a level playing field with men, and that management positions of any consequence went to Emirati nationals if not Arabs generally.
I tried to learn more about Dubai's business and political climate by calling on the U.S. Consulate to speak to a consular officer. I had questions about safety and security, the country's use of Internet proxy servers – to cull out "undesirable" content – and was unsure as to the country's alcohol policy. In the end, I was rebuffed by armed guards who insisted that visits without an appointment were strictly forbidden. I would have preferred that a consular officer had delivered the message directly to a fellow citizen than to have guards deliver the same message with automatic rifles at the ready. Regardless whether the policy is Dubai's or that of the U.S. State Department it is patently counterproductive.
I stayed at the Ritz Carlton in the financial district and had a most pleasant stay but not without a smattering of mishaps ranging from being served spoiled oysters, and thimble-sized cocktails to engaging with a staff that often was unknowing of many of the hotel's services.
Service, on the whole, was professional and attentive but also very intrusive. Service workers, from India, Pakistan, China, Bangladesh, the Philippines, and other places – over eighty percent of Dubai's two-million plus population is made up of foreign nationals – with better than an average command of English provided courteous and cheerful service but their training clearly has not been extended to alight only when needed by a guest.
Once I checked out, I called the hotel's General Manager who proved to be a perfect gentleman and very gracious in wanting to hear about my concerns. He offered to look into my list of hotel miscues and asked me to return in the future to see if anything had changed. To be sure, some service workers went above and beyond the call of duty and that proved very refreshing. But no service organization will find it a sustainable strategy to rely on the heroics of individual workers – heroes have to be supplemented by systems and besides there aren't enough heroes to go around.
HOW DOES SERVICE FIT IN?
My visit to Dubai coincided with the publication of an interview which Mr. Issam Kasim, CEO of Dubai Corporation for Tourism and Commerce Marketing, gave to the on-line journal Skift.
In the interview, Mr. Kasim pointed out that he had a number of initiatives for increasing the attraction of Dubai as a tourist destination. He went on to point out that he's identified areas – he referred to them as pillars – such  as gastronomy, the beach, arts, architecture, souks [open-air bazaars], and retail that he would like to further communicate about Dubai.
What struck me about the interview, however, and what I subsequently conveyed to Mr. Kasim in an email, was that the mention of Service as a pillar or desirable attribute to pursue was conspicuous by its absence. It seemed odd that for a nation which trumpets its status as a showcase for finance, trade, and tourism it should fail to consider Service as a fundamental pillar. Mr. Kasim's return email was courteous and prompt but also inadequate.
Since I mentioned in my email that my stay had not all been peaches and cream I was perplexed that he wasn't curious about what issues I had. What questions did I have? What problems did I experience? What could have been done differently?
He did indicate that Dubai was working to ensure that "every individual that visits and stays at a hotel of any star rating should experience service of the highest quality". "This obviously needs time", said Mr. Kasim, "but it doesn't mean that we have neglected it. On the contrary, there are measures being put into place to address this".
I don't know what measures Mr. Kasim was alluding to since he didn't mention any in his email but I do know that if you don't focus on a strategy explicitly then you are neglecting it.
Dubai won the bid to host World Expo 2020, with the theme "Connecting Minds, Creating the Future" the first Middle Eastern destination for a world exposition. It is expected that a minimum of twenty-five million visitors will descend on the emirate for the festivities. And one can only hope that Dubai's leadership recognizes that much work remains to be done to sharpen existing service practices in anticipation of such an onslaught.
I have to believe that Sheik Rashid would not have looked kindly on visitors to his country having to endure a thirty plus minute bumpy bus ride from the tarmac to the terminal, as I did, because there weren't enough gates to accommodate the volume of passenger traffic.
Excellent service is a scarce commodity which springs from the hearts and minds of those who are ready, willing, and able to serve. It remains to be seen if Dubai can rise to the challenge.
.
Google+