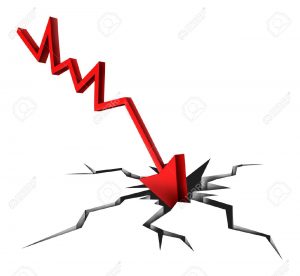 OUR ECONOMY IS IN THE RED ZONE
I am working to raise the level of awareness in business, education, and government to the miserable state of our service economy and what we might do arrest its steep decline. As we've talked about before,  the process of "exporting America" both in manufacturing and services continues unabated. Yet, precious little has been done since I and others began sounding the alarm some years ago. Two, anecdotal albeit telling, examples will make my point. One, some weeks ago, I had to suffer through a presentation by a state politician who did two things during his talk: 1) he told the audience  how hard he worked and how few days he got to spend with his family, and 2) he exhorted the crowd to keep jobs in the state and better still to attract new jobs. At the end of his talk, not wanting to embarrass him in public, I took him aside and asked if the state had a ban on offshoring state projects. He looked at me for a moment and said "no." When I retorted that his words of exhortation where hollow if not hypocritical, in the light of the state's own actions, he replied that what I was suggesting would require  a change by the legislature. His tone of expression made clear that what I had suggested was tantamount to asking the politicos to reach for the moon!
The second example is far more personal.  I have designed a course – Service Management for Executives –  to instruct corporate executives who want to redirect their personal as well as organizational activities to be more in concert with the needs of their customers. This, for me, is the culmination of decades of putting ideas into action in a real-world setting as an entrepreneur. I am, therefore, understandebly  humbled and privileged that the coursework will be rolled out in the spring semester by a major university in South Florida. On another level, the  dissapointment is profound as  this will be the first course of its kind offered by a university in the United States according to the university's own researchers. Consider that the nation graduates over 150,000 MBA's each year and consider further that well into the service and information age we offer no systematic course of instruction on Service as a tool of business strategy.
The deplorable state of service across all industry sectors is more than a matter of corporate survival but of national survival as we continue to witness the erosion of the service industry components of our GDP in the face of the outsourcing juggernaut.
IT'S TIME TO PUT UP OR SHUT UP
We are no longer playing a domestic zero-sum game. The threat now is that if we lose business to an offshore location we may stand no chance of recovering that lost business.   If manufacturing slipped away from the United States in a generation, it won't take nearly as long for service activities—more easily outsourceable than manufacturing ever was—to disappear from our shores. The process, unfortunately, is already well on its way in high-impact areas such as the life sciences, software engineering, product design, technical support, financial services, and a myriad back-office business processes.
Particularly galling is the call center industry which has sprouted in Argentina mostly at our expense and which now consists of nearly 100,000 workers. Why our nation with 45-50 million Hispanic speakers would outsource Spanish language call center work to Argentina is anybody's guess. The answer, of course, is that Argentina offers incentives to locate call center work there and we offer disincentives to keep the work here.
Few service activities are immune to the outsourcing threat. We are marooned on an island of service activities – we have no choice but to fight our way out. If the United States is to avoid a nuclear winter in its service industries it has no choice but to excel in service, do so at globally competitive prices, and do so now. Business and government policies need to be crafted consistent with this emerging challenge to our sovereignty or the consequences will be dire.
Google+