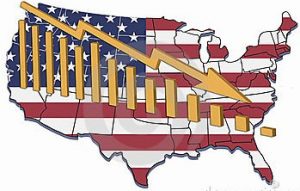 WHAT HAPPENED TO THE U.S. ECONOMIC ENGINE OF GROWTH?
The nation's engine of growth in new jobs, historically, has been the young and emerging enterprise. Companies less than one year old have accounted for roughly 20% of all gross new jobs created and virtually all net new jobs (jobs added minus jobs lost). More specifically, companies 1-5 years of age have added, on average, over two million net new jobs over the past thirty years with the exception of the years immediately following the financial meltdown of 2008. That was then. Net new jobs created are now well below two million a year. Here's why.
BUSINESS STARTUPS ARE IN A HISTORIC DECLINE
The driver behind new job creation is the new business startup. And, it is clear why new job creation in the United States is at an all-time low: the failure rate of young firms far outstrips the rate of new business formations. It is no wonder that the United States is nowhere in the top ten of nations for spinning up new companies on a per capita basis: The number of business startups is roughly half what it was thirty years ago.
I can think of no greater threat to our democratic spirit than our inability to inspire, if not incent, young entrepreneurs to take the plunge. The rate at which entrepreneurs ages 25-54 – the prime years for throwing caution to the wind – choose to risk it all, again, is about half what it was three decades ago. Millennials, the offspring of the digital age, who should be best poised to launch an entrepreneurial enterprise have proved to be risk-averse and now account for the least represented demographic responsible for new business formations. This is all the more grave since by 2020 millennials will represent the largest age segment in the population.
CAN ANYTHING BE DONE?
The continuing onslaught of stultifying regulatory prohibitions (licensing, permitting, and other forms of red tape), confiscatory tax rates, reluctant bank credit markets, and a tax code of mind-numbing complexity continue to deter the best and the brightest young minds to seek sanctuary in menial, corporate, or government jobs where innovation will hardly move the needle on the nation's global competitiveness. Clearly, the confidence of our latest generation has been sapped and it now seeks refuge where rewards are more in line with pursuits involving little or no attendant risk.
It is an established fact that industry-disruptive technologies are less likely to spring from established market leaders – which are largely motivated to preserve the status-quo – than from entrepreneurial companies. Tellingly, small firms generate many more patents per employed worker than large firms. It is vital, therefore, to restart the nation's entrepreneurial engine of growth in order to rekindle our democratic and free-market principles. In the absence of anything less than an overhaul of the regulatory and legislative climate at the federal, state, and local levels impinging on new business formations The American Dream will remain a lost slogan.
Related articles
Google+