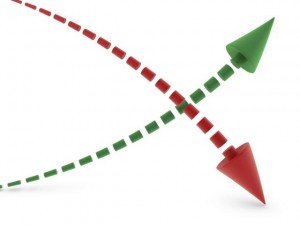 PRODUCTIVITY IN THE NEW AGE
Productivity in the computer and information age has proved less transformative – that is, less disruptive – of the established order than advertised. As far as the U.S. economy is concerned productivity growth, with rare exceptions, is lodged within narrow bands in industries such as telecommunications, entertainment, and information processing. Technical advances made in these sectors, while extraordinary in certain niches, have proved incapable of providing broad-based stimulus to the economy. It is no wonder that GDP remains systemically anemic and worker participation is at historic lows. Further, if recent economic growth is an accurate prognosticator, it is doubtful that the nation's productivity will return, in our lifetimes, to the salad days of the middle decades of the twentieth century. In other words, technologies such as personal computers, smart phones, fiber optics, and the internet of things for all of their presumed transformative potential have failed to demonstrably enhance the average worker's productivity. In fact, labor productivity is scarcely above levels prior to the 1920's.
IS TECHNOLOGY THE ANSWER?
It is clear that technical advances alone, especially along narrow technology corridors, will do little to rescue the economy from the doldrums for a long, long time to come. Technology has proved no match for the more structural factors arresting the growth of a broader-based economic revival. Reforms are needed to deal with issues such as illegal immigration; sub-par education at virtually all levels of schooling; imprudent fiscal and monetary policies at the federal, state and local levels; trade policies among other factors. Reforms in these areas have a better chance than all of the technical advances in the world in keeping us from becoming a nation of also-rans.
SERVICE REMAINS A LAGGARD IN THE ECONOMY
The much ballyhooed computer and information age has also failed to transform one other essential element of the economy; namely, service to the consumer. Perversely, mediocre service seems to be ubiquitous in those self-same industries where productivity has made the most progress! This inverse relationship – greater productivity at the expense of excellence in service – is evident to most consumers on a personal level but it is also borne out by the analytics: According to the American Customer Satisfaction Index [ACSI] many of the stalwarts of the computer and information age – again, almost across the board companies in telecommunications, entertainment, and information processing – are below the median ranking for customer satisfaction. Household names such as Comcast, Cox Communications, Facebook, Twitter, LinkedIn, and Time Warner Cable might be making more for less but these new-age companies are also serving less for more.
As I have stressed to my clients for years, the deplorable state of service is more than a matter of corporate survival. Yes, industry squanders tens of billions of dollars due to poor service practices. And, yes these monies would be better served being plowed back into the business or distributed as dividends to the shareholders. But the problem runs deeper than that. As we continue to witness the erosion of the service industry components of the nation's GDP, in the face of the outsourcing juggernaut, poor service becomes a matter of national survival with consequences to the health and financial well being of every citizen. If manufacturing slipped away from the United States in a generation, it won't take nearly as long for service activities – far more amenable to outsourcing than manufacturing ever was – to disappear from our shores. The process, regrettably, is already well on its way.
Google+