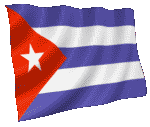 THE GREATEST SHOW ON EARTH
Mr. Obama's visit to Cuba in 2016 was stagecraft at its finest. It is noteworthy, however, that Mr. Obama's Keynote speech was delivered at the Gran Teatro, a storied music hall confiscated by Fidel Castro.
The group of Cuban-American businessmen who accompanied Mr. Obama to Cuba – a tiny and hardly representative group of Cuban-American entrepreneurs – is obsequious and self-serving despite their denials. Their travel to Cuba betrays the memory of the hundreds of thousands of Cubans who have perished at gulags, against the paredón, and at sea. Their visit was an embarrassing  spectacle only surpassed by the President of the United States joking and palling around with a Cuban communist comic or by doing the wave at a baseball game.
On the eve of Mr. Obama's landing in Cuba – with full family in tow at taxpayer expense – on Palm Sunday nine migrants drowned seeking their freedom. A more tragic metaphor for Barack Obama's feckless policy of letting bygones be bygones and of making nice with Fidel and Raul Castro could scarcely have been better scripted. A question Mr. Obama was never asked by the trailing New York Times reporters in the wake of his visit was: "how did it feel to shake hands with a cold-blooded killer?"
The average American remains ignorant of the continuing mischief caused by the Castro brothers including the recent deployment of Cuban soldiers to help prop up the murderous regime of Bashar al-Assad in Syria.
THE CUBAN MARXIST SYSTEM IS IMPERVIOUS TO OLIVE BRANCHES
The dismal failure that is the Cuban economy is not the result of the U.S. embargo despite the mythology that claims it is so. Why? Because every other country in the world – at last count 190 countries – trades with Cuba. Cuba is bankrupt because of the policies of the mafia that is the communist Castro regime: a regime which rewards El Lίder Máximo with multiple beach-front estates, women, whiskey and song. Today, the average Cuban must do with ration books while many, even in the nation's capital, need to haul their own drinking water. This is a far cry from a pre-Castro Cuban economy which rivaled those of Germany and Japan. The 43,000 Cubans who escaped the communist nation for the U.S. in 2015, and the 56,000 who did so in 2016, many risking a crossing of the shark-infested Florida Straits on a raft, is emblematic of the hellhole that is Cuba.
Former Serbian strongman, Slobodan Milosevic, was arrested and turned over to the United Nations to face a war crimes tribunal at The Hague. He died in jail. Panamanian dictator Manuel Noriega was deposed and brought to the United States to stand trial for drug trafficking and languished in jail in Panama City before passing away in May of this year. In contrast, the narco-trafficking Castro regime which has slaughtered many more thousands of its own citizens and who has bled the country white for nearly sixty years is rewarded for its debauchery with an American Embassy fawningly re-opened by Secretary of State John Kerry.
It is embarrassing to our nation and a public relations coup for the Castro brothers that Mr. Obama would deign to set foot on the island until there were verifiable evidence of democratic reforms including freedom of the press, the conduct of free elections, the release of political dissidents, and the return of U.S. cop-killers sought by the FBI.
A smiling U.S. Department of Commerce Secretary, Penny Pritzker, was in Cuba in 2016 telling authorities there that Barack Obama sought to end the embargo. That was then. President Trump, it is assumed, has no such intention. There should be no discussion of ending the embargo until there were a tangible plan to indemnify Americans as well as Cubans who saw their properties and other assets confiscated by the Castro regime. My mother's house in Old Havana was confiscated without due process. She died with a broken heart and without any recompense like so many other thousands who fell prey to the depredations of the Castro regime.
Related articles
Google+