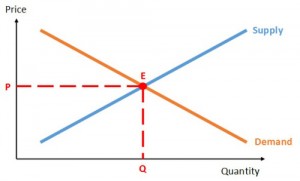 THE LAW OF SUPPLY AND DEMAND
The law of supply and demand is at the heart of an understanding of basic economics. Simply stated, supplies of goods or services rise as the market price for those supplies rises and fall as price falls.  On the other hand, demand for a good or service increases with price decreases and decreases with price increases. In free market economies, the market strives to find a point of equilibrium between the price a consumer is willing to pay and the price a producer is willing to offer a particular good or service.
Entrepreneurs, however, should run away from the intersection of supply and demand curves like the plague. Better, they should seek with a vengeance the advantages offered by maximizing economic rent.
THE ROLE OF ECONOMIC RENTS
Economists call the portion of a price that does not affect the supply of a good or service as an "economic rent." The best way to visualize this concept is to assume that the supply of some good or service is totally inelastic.  A classical pianist, for example, by reason of his extraordinary virtuosity may have no peers in the piano concert circuit.  In other words, no matter how much a concert hall is willing to pay for the services of the pianist the supply [the pianist in question] is unchanged. An economic rent, therefore, arises from the scarcity value attributed to the pianist and as concert halls bid for his services to higher and higher levels his economic rent grows commensurately.
In the real world, few goods or services remain totally inelastic over the long run. Clearly, as economic rents grow higher and higher the market responds by introducing competitors – other virtuoso pianists, in our example – or by introducing substitute performers – virtuoso violinists perhaps.
SEEKING AN UNFAIR COMPETITIVE ADVANTAGE
In business, economic rents are earned when the enterprise has something unique to offer the market that other firms can't offer. The mission for the enterprise, therefore, is to find a competitive advantage – in effect, an "unfair" advantage –  that can't easily be emulated by competitors. Sustainable competitive advantages can be the result of a firm's having the ability to be the low cost provider in an industry, possessing proprietary technology, or owning an unimpeachable brand name. Another sustainable competitive advantage that can drive economic rents through the roof for a firm is the result of delivering excellence in service day in and day out.
In my experience, the delivery of excellent service is so scarce in virtually every segment of industry that the firm which can sustain superior service to its customers can command economic rents that will drive profits far beyond its cost of capital.
Google+