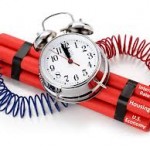 In most companies, brand marketing and sales expenses can be said to be costs incurred in the acquisition of new customers. It follows that if a company spends $1,000,000 in marketing and sales to acquire 100 customers, then the cost of acquisition is, on average, $10,000 per customer.  So long as that ratio holds, the marketing executive can budget additional dollars to garner a predictable percentage of additional customers. It also follows that if the company loses 100 customers over the same time period, then the marketing and sales budget is simply covering the churn. The reflex reaction by the vast majority of companies, however, is simply to spend more to gain more customers. Customer retention, it is fair to say, always plays second fiddle to customer acquisition.
NEW CUSTOMER ACQUISITION: MARKETING'S ONE TRICK PONY
That approach, though misguided, is contemporary marketing orthodoxy. The arithmetic behind customer attrition iselementary: if a company has 1,000 customers and loses 100 of them over a given period of time, say a year, then the attrition rate is calculated at 10 percent per year. In my experience, though the math might be straightforward, few marketing executives know their own company's customer attrition rate to any degree of accuracy. This is unfortunate as it cripples the marketing executive's ability to have a sound grasp of the economics of acquiring and keeping customers. Knowing your own company's customer attrition rate is a necessary first step in gaining that understanding. Incidentally, ask the same marketing executives about their new sales opportunities, and they will wax poetic on the minutest details of their sales pipeline.
If marketing executives are generally in the dark as to their company's customer attrition rates, the consequent financial impact of such attrition remains more enigmatic. Arriving at the average cost of attrition per customer is simple enough. This cost can be calculated by dividing the gross profits of the enterprise (revenues minus direct costs) by the total number of customers to yield average profitability by customer. This number is then multiplied by the number of customers lost in a time period to get at the total cost of attrition. If, in our example company, the gross profit amounts to $2,000,000, then each of 1,000 customers is worth $2,000 in average profitability. If the company's attrition rate is 10 percent, then the cost of attrition is $200,000 ($2,000 x 100). This approach might be useful for high-level planning purposes, but it is useless as a means of understanding the dynamics behind the firm's customer attrition. For one, a supplier who loses high-valued customers—that is, customers of above-average profitability—will be more concerned with that fact than with the overall attrition rate or average cost of attrition. For another, this average-costing approach certainly disguises customers who are break-even or being served at a loss. A fundamental understanding of customer attrition can only be had if the supplier knows which customers are defecting, why they are defecting, and how they might be persuaded to continue to do business with the firm. The analytics necessary to have an in depth understanding of customer attrition requires granular segmentation of the customer base, continuous monitoring of satisfaction along those segments, and an understanding of each customer's profitability. The combination of these techniques can prove to be an effective bulwark against defection.
Customer attrition in the conventional sense of the term is defined to mean a customer who has already defected to a competitor. In many cases, it is true; customers just bolt to a competitor. In my experience, however, many times customers signal their intent to eventually defect by exhibiting a decrementing pattern of spending. This process of gradual attrition, if detected sufficiently early, gives the supplier time to respond. Understanding the customer's motivation behind the new pattern of spending provides the supplier an opportunity to stem the tide with newly launched service initiatives, for the benefit of high-valued customers, or to simply ignore the impending defection for customers of marginal value.
 NEW CUSTOMER ACQUISITION AS A COST  OF CUSTOMER ATTRITION
An additional consideration in coming to terms with the cost of attrition involves viewing the cost of new customer acquisitions as, in fact , a cost of attrition. In our example above, there is every reason to believe that the marketing and sales budget was set at $1,000,000 because of the attrition experienced by the firm. We can ask the question this way: would the company have the same marketing spend if its customer attrition rate were significantly lower? It isn't likely. In the case where new customer acquisitions equal roughly the loss of existing customers, it can be said that the entire marketing and sales budget of $1,000,000 is an additional cost of customer attrition. In other words, the whole marketing and sales budget has gone to simply replace lost customers. Any material reduction in attrition gives executive leadership a number of options that it might not otherwise have.
One option available in the light of a lower attrition rate might be to simply reduce the marketing and sales budget—good luck taking that idea to the marketing department!—and take the savings to the bottom line. A smarter option, however, might be to redirect some of the marketing and sales budget dollars toward service initiatives—additional frontline personnel, new quality programs, new information systems which can enhance the customer experience, and so forth—all intended to further reduce the rate of attrition. As a rule, increasing revenues from existing customers drops the amount that the marketing organization must spend to generate the same amount of revenues from new customers. In some cases, the reduction in cost can be dramatic. If an existing customer can yield in additional revenues and margins what an average new customer generates, then practically the entire marketing cost of finding the next customer can be offset by the supplier. Other benefits accrue to a smart customer retention strategy.
First, the longer a supplier commands a customer relationship, the more profitable the customer's business becomes. This is so, because, over time, as customer and supplier organizations learn to work with each other, operating and administrative efficiencies take hold, thereby increasing supplier margins. Second, existing customers, as the source of new business referrals, also mitigate the cost to the supplier of finding the next customer. In addition, a new customer arrived at via a referral has not only the effect of further solidifying the supplier's relationship with the existing customer, but also getting the new relationship off on more solid footing. Finally, a customer of long tenure is more value driven—that is, it is less price sensitive—and thus gives the supplier the flexibility to operate within a broader range of pricing options.
CUSTOMER RETENTION: IS IT MARKETING OR IS IT SERVICE?
Customer retention strategies are, at bottom, customer service strategies. And, despite all that these strategies have to recommend them, they are hardly in the marketing mainstream. Yet it is a sobering thought to consider that a supplier will not experience sustainable growth until such time as it becomes as adept at retaining existing customers as it is at attracting new ones.
Related articles
Google+