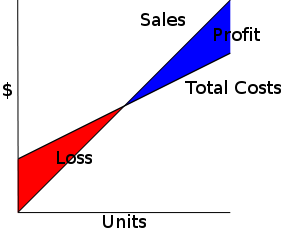 I would respectfully like to make an enhancement to Raul's blog posts regarding customer attrition. In those posts, and in his book, Raul calculates the average profit per customer in order to assess the corporate costs of poor customer service. While the numbers Raul comes up with are scary enough for any executive willing to look beyond the short-term financial numbers, an incorrect reading of Raul's calculations will actually underestimate the real costs, potentially substantially!
THE BACKGROUND
The difference here is understanding the difference between gross profit (revenue less direct costs) and net profit (revenue less total operating costs). If an accurate estimate of attrition costs is to be made, gross profit, not net profit must be used to make the calculation. The principal reason is that overhead costs are rarely attributable to individual customers with any degree of accuracy. In my 30+ years of consulting experience, I have found that a great many business owners do not always make clear distinctions in their own minds between these two methods of calculating profit when making policy decisions. Let's take a simple example. Suppose you own a small computer firm that supplies equipment and services to 100 businesses. Your business generates revenues of $2 million, so the average revenue from each customer is $20,000. Next, let's suppose that  total operating costs (people, facilities, servers for web hosting, wholesale cost of the equipment you sell, etc.) is $1.5 million. Your total annual profit is $500,000 and your profit per customer is $5,000 per year. Admittedly, this is a very profitable business generating earnings at the rate of 25% but it helps us vivify our case. If you lose 10 customers, therefore, it is tempting to assume that you will lose $50,000. It is actually much worse than that.
THE REAL NUMBERS
To get a complete picture, we have to differentiate between fixed and variable costs. Fixed costs are those expenses that do not immediately depend on the number of customers you have (although they will depend on the overall size of the business). These expenses include rent, equipment, office staff, the hosting servers, internet connection expenses, basic professional staff, etc. On the other hand,  variable expenses are those that are related directly to the number of customers you have. These will include equipment purchased for resale, some of the technical support personnel, and professional services you may have to buy to deal with customer issues outside of the skills of in-house staff. Finally, I am going to assume that  annual fixed costs are $1 million and  variable costs are $500,000. In other words, while your net annual profit is $500k (total revenue less total expenses), your per-customer gross profit is actually $15k (the $20k you charge, less the $5k it costs you directly to support an average customer.
Here's where it gets a bit tricky. If your fixed costs are $1 million, it takes the entire gross profit from your first 67 customers, just to cover your fixed costs ($1million divided by $15k). In other words, if you only have 67 customers, you don't make any profit at all. All of your net profit is derived from the other 33 customers. If you lose 10 of those customers, you will actually lose $150,000 or 30% of your total annual profit!
If business owners and executives clearly understood this, we just might see service start to improve.
Dr. Robert F. Everett, Business Advisor
Google+