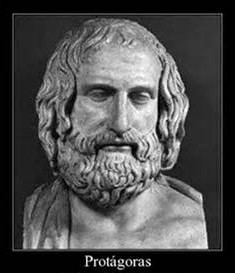 The ancient Hellenes lived by an axiom first spoken by the great sophist Protagoras; "Man Is The Measure Of All Things." Even in antiquity the greatest minds were in synch.
Individually, we are beholden to one another in the court of public opinion, and if we don't show up we find that there are professional judges paid to put us in our place when we've crossed a line. But what of the corporate entities we've designed in our capitalist enterprise? Does the same axiom apply? I'll withhold my opinion for now.
When we analyze the capital markets we find many human qualities; mergers and acquisitions are a lot like dating and marriage. Bankruptcies, like the addict going to rehab. Along these parallels we see man's idiosyncratic effect imbued on the objects of our creation.
THE CORPORATION AS A HUMAN ENTITY
But what of morality, Can a corporation ever feel bad? What does a corporate mea culpa sound like? More importantly, is there similitude between the court of public opinion and the court of corporate culture? I'll slip in this opinion; they are diametrically opposed. In fact there is a mechanism through which the corporate entity is able to absolve all sins, without having suffered like the individual perpetrating the equivalent turpitude.
To an uninitiated mind, this matter is trivial. They may wrongly think that this issue is arcane. In my purview, this is of monumental importance to the direction and scope of our capitalist vision. I foresee that this moral hazard is the greatest threat to our continued success as a good and moral nation.
The corporation is more powerful than the sum of the individuals inside. For our thought experiment, let's anthropomorphize this powerful entity. Let's say that this super-conglomerate is just one man. Would that man maintain his place if he polluted his neighborhood irreparably. What if he blatantly allowed the death of his neighbors because it would have been too much nuisance to fix or even report a downed power line (which he caused himself). If that man was so rich that he could buy all the publicity in the world. Even then, would we still hold him in the same regard? I venture to say, NO. He may stay out of jail, but he won't be allowed to walk among more moral souls with impunity.
Of all the different paths we may choose to walk in this life we are inexorably led back to the same line; the line we call virtue, defined here as a balance between our heart, mind, and our body. Without this line, mankind would have already been dissolved into the uncaring jungle. Our corporate creation, as it manifests and exemplifies our unique human culture, is a child in the scale of time. Like all children, they need room grow and fail. Are we to be the absentee parents turning a blind eye to our offspring even as they turn down a dark crooked pathway? Or will our love of ourselves – the great miracle that is man, prevail?
Eric Wagner,
Mobile # {561}-{674}-{7272}
ericrwagner@gmail.com
Google+