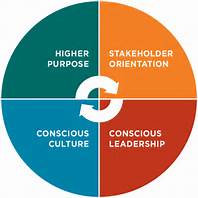 John Mackey, author, co-founder and CEO of Whole Foods, has started a movement—"conscious capitalism."
His book, "Conscious Capitalism" (co-written with highy acclaimed Raj Sisodia), reflects about profits versus societal impact or shareholder versus stakeholders. Mackey and Sisodia argue that true business (from their perspective) must be "good" for all stakeholders.
After having read an interview on http://www.forbes.com/sites/ashoka/2013/03/01/qa-with-whole-foods-ceo-john-mackey-about-conscious-capitalism/ and the book in the recent past, I wondered about the implications.
It's also time to balance service with societal impact. Mackey wrote back in 2007. "Although it may seem counterintuitive, the best way to maximize profits over the long-term is not to make them the primary goal of the business."
And indeed, the best way to maximize profits in the long run might be to deliver excellent service at an optimum for all stakeholders.
Related articles
Google+